Top 5 Reasons to Buy a Car
When it's time to upgrade your vehicle, there are several things you should consider. From studying a car's appearance to its performance capabilities, it's important to learn all you can about the make and models of the car you want before you drive it off the lot. Here are the top five reasons to buy a car.
Safety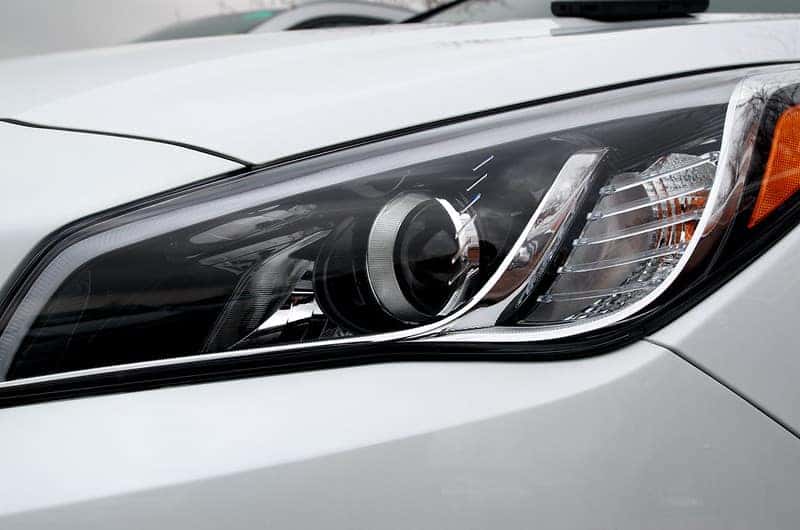 "Headlight detail" licensed under "CC By 2.0" by Kobie Mercury-Clarke
Prospective car owners often search for vehicles that can protect them and their passengers during commutes. They may look for safety features that keep them informed of their surroundings at all times. For example, the parent of a teenager who's attending college out of state may select a model that has blind-spot monitoring and lane departure warnings, which can help the young driver switch lanes safely on the interstate. A driver who uses street parking outside their workplace may want a rear-facing camera that shows what's behind the vehicle and guides them as they steer backward into an empty spot.
Customers may also look for child locks for the rear doors and enough interior space to fit multiple car seats for young passengers. To avoid accidents on the highway, some may be interested in models that notify drivers of collisions and press the brakes on their behalf. Another priority may be wireless connectivity that enables drivers to talk on the phone or send text messages while keeping their hands on the steering wheel. Confidence that the car makes driving easier and safer can sway a customer's choice for an upgrade.
Price
Before committing to vehicle upgrades, consumers examine how much the cars cost. They compare the prices to their personal budgets to determine if the investments are worthwhile. They may evaluate the affordability of the monthly payments and calculate how much money they need to pay for required maintenance procedures, such as gas mileage and oil changes. To avoid exceeding budgets, consumers often choose cars that fulfill their financial interests.
Car pricing can also influence consumers' choices for the makes and models of vehicles they're considering. For example, a prospective car owner with a strict budget may select an entry-level trim that's safe and reliable and includes standard features. If willing to dedicate additional funds to the upgrade, a customer may choose a more expensive trim level that comes with advanced features, such as a bigger touch-screen display and a customizable climate control system for the driver and passenger seats.
Quality
The make and model of a car that a consumer perceives as quality is one they're likely to purchase. Quality can refer to the car's ability to travel to and from a destination safely. For example, a driver may want to know how long it takes for the vehicle to accelerate to 60 miles per hour or how easy it is to brake when there's an obstacle in the road. A quality car may have strong craftsmanship, which can include the design of its exterior that allows it to remain balanced on the road and maneuver sharp corners.
A consumer may ask questions about what's beneath the hood of the car they're considering. Its horsepower, torque, and towing capacity can represent its quality, along with how many miles it can travel with a full tank of gas. Quality can be subjective based on consumers' personal standards, driving experience, and car knowledge. However, as they take multiple vehicles out for a test drive, they may look for the assurance that the vehicle performs well to make sure that it's worth the price to finance and maintain it.
Style
The style of a vehicle refers to how it looks on the outside and the inside. When customers walk through the parking lot of a dealership, they may look for cars that have a particular aesthetic appeal. For instance, if a sedan has five trim levels, the customer may select the highest level because it has chrome door handles, 19-inch aluminum wheels, and LED projector headlamps and taillamps. The interior may also capture their attention if it has leather-trimmed bucket seats and a leather-wrapped steering wheel.
With style, drivers can feel confident about the vehicle they've chosen to park in their driveways. They may also want their cars to reflect their lifestyle and personality. For example, if a customer enjoys designer clothes and accessories, then they may opt for a luxury car that has a luxurious interior design and sleek exterior finish. If they want their vehicle to stand out when they're cruising down the highway, then they make look for models that come in unique exterior colors.
Reputation
Another determining factor in a customer's purchasing decision is the reputation of the vehicle. Customers often conduct research about the makes and models of cars they're considering, which helps them identify brands that meet their expectations. For example, suppose you want to finance a brand-new midsize sedan, so you look for reviews online from customers who own the vehicle you want. Common sentiments in the reviews are that the car provides a smooth drive, and it has comprehensive safety features and a lot of cargo space. Now you know which sedan to test drive when you visit the dealership.
The more positive the public perception of a vehicle, the more likely customers gravitate toward it in the lot. The reviews offer insight into what drivers can expect if they own the car, which helps them feel more confident about their choice. If they have priorities in mind, such as safety, price, or style, then they can look for the reputation about those priorities to narrow down their list of considerations. For instance, a brand that's known for being reliable when traveling long distances is important to a consumer who's on the road frequently.
Looking to Purchase a Vehicle? North Coast Auto Mall of Cleveland Has You Covered!
North Coast Auto Mall of Cleveland has given you a list of the top five factors that influence a customer's decision to buy a new vehicle. Have we covered the characteristics that make the strongest impact? Is there another feature that car owners look for when it's time for an upgrade? If so, leave us a message on our website to let us know, and we'll be happy to add it to our list.
Similarly, if we have inspired you buy a car, then please do not hesitate to reach out! Our vehicle inventory is expansive, and we are confident that our selection of vehicles will satisfy your needs. Our team will answer any questions you might have about the car loan or car buying process and do our best to help you find your ideal vehicle.