The Best Local Restaurants of Cleveland
Cleveland is a fun and engaging city that provides many fun opportunities for visitors. From the Rock and Roll Hall of Fame to its many sports teams, you should always have something to do in this city. Thankfully, Cleveland also has many restaurants that may serve your hunger well. The following options provide some of the best dining picks.
La Plaza Taqueria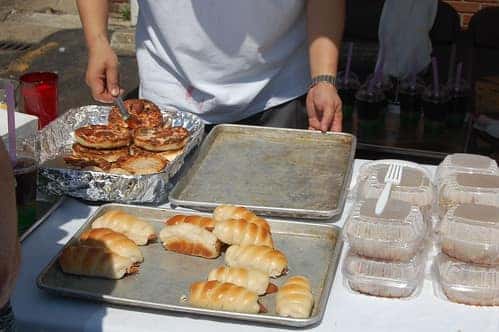 "Cleveland Asian Fesitval" licensed under CC BY-SA 2.0 via Flickr under stu_spivack
If you want great Mexican food with an American twist, La Plaza Taqueria is a great destination for you. This restaurant and catering facility provides a broad range of fresh meals, including tacos, burritos, tortas, quesadillas, tamales, and multiple sides. You can customize these meals, such as adding extra meat to tacos, picking specific cheeses for your burritos, or adding onions to your quesadillas. La Plaza also cater for big events.
When you're out and about in Cleveland, you may run into their taco cart, a traveling dining option from which you can get any taco. La Plaza also pairs up with multiple food delivery options to expand their service range for people beyond their traditional ordering area. Don't forget their taco party tray option, which works well for big parties, Super Bowl watching events, or even your next family get-together.
Salt
Modern restaurants often serve very large portions that seem to satisfy but which mostly mask a lack of quality ingredients. Small-plate dining options like Salt provide smaller meals that focus on food quality, not quantity. They use all fresh ingredients sourced from Ohio farms and serve them in season. Their chefs produce a broad meal range, including vegetarian options like white bean puree, crispy potato dumplings, baby sweet potato, and braised beets. Ingredients get pan-fried in healthy oils that preserve flavor and nutrients as much as possible.
However, they also serve fish-based meals, such as calamari, red snapper, grilled octopus, and clams flavored with ingredients like quail egg, olives, pistachio, and coriander coconut glaze. Meat dishes included barbecue quail, wagyu beef, chicken liver pate, and lamb meatballs. They specifically prepare each dish to your taste, serve them on small plates, and season each meal after preparation. In this way, each meal remains fresh, a little different each time you visit, and tasty to many people. 
Fat Cats
Fat Cats provides a bistro environment that has served Cleveland's Tremont neighborhood since 1997. Long before Tremont became the go-to place for restaurant fans, Fat Cats was setting the golden standard. Their bistro-style dining includes friendly service and fusion-style meals that blend Mediterranean, Asian, and Latin-American flavors into one unique style. You can get steamed buns, grilled octopus, and even steak at this restaurant. 
The restaurant offers sidewalk seating during the summer. Or you can enjoy a relaxing table in the restaurant's quiet and inviting atmosphere. If you're a wine lover, you may particularly enjoy Fat Cats' substantial and eclectic wine list.
Astoria Cafe & Market
Cleveland's prime Mediterranean restaurant, the Astoria Cafe & Market, has a low-key, friendly, and inviting atmosphere and provides high-quality food at reasonable prices. Residents and visitors love this destination for its bright and spacious outdoor seating area and comfortable interior. It's also known for its many meat and cheese trays, pizzas, sandwiches, salads, and desserts. Visitors may enjoy foods like tomato basil bisque, tzatziki with pita, falafel, gyros, pizza al Salame Piccante, small plates like shoulder steak, and large plates like balsamic Maiale ribs.
While eating here, you may sit at a bar, table, or on the outside patio to enjoy the beautiful Cleveland summers. The bar includes multiple drink options, like locally brewed beers and hand-mixed cocktails prepared by the staff. However, you may also visit the connected market to shop for various meats, cheese, wines, and veggies and take them home for dinner. Astoria also includes private event booking that you can use when preparing for wedding receptions, corporate events, and even family reunions.
Bangkok Thai Cuisine
If you want great Thai food, head straight to Bangkok Thai Cuisine. They provide authentic Thai food in a low-key atmosphere that feels inviting and warm to visitors. Beyond their traditional cuisine, they also offer catering options for your parties and significant events. 
Popular meals here include pad thai, red curry and bamboo shoots, Bangkok in Love, mango fried rice, tamarind crispy basil, and pad see ew. Appetizers include chicken satays, golden chicken spring rolls, tofu triangles, shrimp in the blankets, dumplings, and vegetarian gyozas. Soups include tom yum goong shrimp, tom yum kai chicken, Thai rice soup, and a shrimp and mushroom soup. You may also order Thai noodle dishes alongside chicken, pork, and beef salads.
Mabel's BBQ
Mabel's BBQ is a legendary Cleveland restaurant that residents often recommend to visitors. After tasting your first bite, and every next bite, you'll understand why. Located in downtown Cleveland, Mabel's not only provides delicious barbecue food but also integrates various food cultures into a barbeque style that Cleveland natives are claiming as their own. These styles include delicious brisket and kielbasa from Eastern-European recipes and Mediterranean-style spices. They cook all meat over local fruitwood to give each meal here a fantastic taste, texture, and aroma. 
Mabel's offers in-person dining, delivery, and curbside-pickup options, helping you get the meals you want in whatever way you want. Their meals include various sandwiches, such as beef brisket, turkey breast, pulled pork, and kielbasa meals. You can also get pork belly, pork spare ribs, and giant beef rib dishes. The rib meals are not sandwiches but served as racks of meat with any sides you want to add. Sides include baked beans, fried potatoes, potato salads, leafy greens, roasted cauliflower, broccoli salad, and even poppy seed coleslaw.
So there you have it, several great restaurant options you can consider when visiting this city. Did our picks satisfy your culinary desires? Do you know another restaurant that deserves to be on this list? Don't hesitate to drop us a line and leave us a comment. We love hearing from our customers about their great culinary experiences in Cleveland.