Must See Attractions in Cleveland, Ohio
Maximize your vacation days by taking a fun-filled trip to Cleveland, Ohio. The city has both outdoor and indoor attractions that are enjoyable for your entire family. You can educate yourself by taking a tour of a museum, burn some calories during walks in nature, and eat tasty cuisine from unique dining locations. It's time to relax and refresh on a getaway to the Midwest, where an adventure in Cleveland can create memories that will last a lifetime. Here are nine must-see attractions to consider checking out on your next visit.
Cedar Point Amusement Park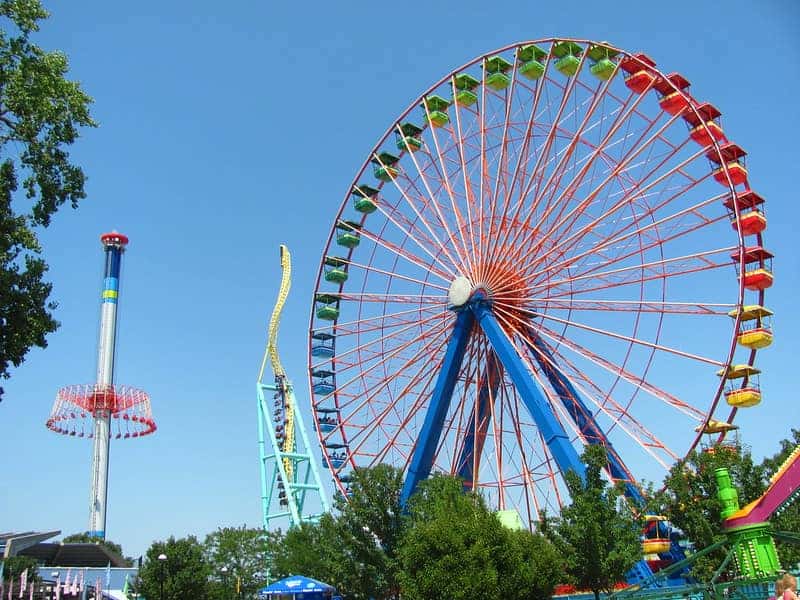 "Cedar Point 085" licensed under "CC BY 2.0" by Jeremy Thompson
If you're looking for an adrenaline rush, then take a drive to Cedar Point Amusement Park. It's the second-oldest operating park of its kind in the country, boasting 70 rides for guests of all ages. You can brave the winding roller coasters, send your young children or siblings on the carousels, and make a splash on the slides at the water park. When you're ready to eat, the park has multiple dining options with your favorite foods and drinks. Purchase your tickets online and consider adding upgrades, such as Fast Lane to avoid the crowds.
Rock & Roll Hall of Fame
The Rock & Roll Hall of Fame, or Rock Hall, is a museum in the heart of Cleveland. You can learn about the stories of legendary musicians, songwriters, and performers. Walk through the galleries on five levels to learn about inductees and play instruments, including guitars, drums, and ukuleles. The exhibits display instruments and performance outfits from great musical figures, and there's a signature gallery that shows the markings of inductees. Explore the evolution of music and the formation of other genres, such as jazz and R&B. The Rock Hall requires guests to buy tickets online before visiting.
Cleveland Botanical Garden
Spend a sunny afternoon strolling through Cleveland Botanical Garden to immerse yourself in the wonders of nature. There are 3,500 acres of picturesque scenery, featuring ornamental trees, blooming orchids, and foxtail lilies. Breathe in the enticing aroma of roses at the Rose Garden, for instance, or allow the scents of mint and lavender to relax you during a visit to the Restorative Garden. The calendar that shows the availability of tickets is accessible on the garden's website, where you can plan your trip up to three weeks ahead of time.
Cleveland Museum of Natural History
Blend your love of nature and learning with a visit to the Cleveland Museum of Natural History. You can explore exhibits that can teach you about the origins of the human race and display collections of fossils and skeletal remains. If plants interest you, then you can spend time in the botany section of the museum, which shows hundreds of thousands of plant specimens. As an animal or insect enthusiast, you might appreciate the exhibits in the invertebrate zoology section. Reserve your ticket before your visit by accessing the museum's website. The museum is open Tuesday through Sunday.
West Side Market
Shop for fresh ingredients for dinnertime at the West Side Market, the oldest operating public market in Cleveland. There are 100 vendors that sell fruits, vegetables, nuts, and spices. You can purchase dairy products, such as cheese and eggs, or choose from an assortment of poultry items, including bacon, sausage, and beef jerky. Other items include seafood, baked goods, and specialty foods, such as pasta and juices. If you're not in the mood to cook, then head to the prepared foods section to find a meal that's ready to eat. Tour West Side Market to check out its selections.
Great Lakes Science Center
Travel to downtown Cleveland for an educational experience at the Great Lakes Science Center. The museum has several interactive exhibits that can teach you about principles in the realms of science, technology, and mathematics. For example, the NASA Glenn Visitor Center features galleries that show accomplishments in the aeronautics industry, including the Apollo Command Module's journey into space. You can also gain exposure to engineering by visiting the BioMedTech exhibit. The museum is open every day except Monday and closes at 5 p.m. Feel free to purchase your tickets online.
Cleveland Metroparks
Another way to enjoy the great outdoors in Ohio is to take a day trip to Cleveland Metroparks. Listen to the sounds of nature on a hike in the countryside or engage in friendly competition in a game of footgolf. You can also participate in recreational activities, such as rock climbing, boating, and archery. For a front-row seat at wildlife exhibits, head to the Cleveland Metroparks Zoo, a top zoo in the state. You can buy tickets in advance by browsing the website. Consider booking tickets for individual attractions, such as giraffe feedings, for an opportunity to interact with animals.
A Christmas Story House
A Christmas Story House is a must-see Cleveland attraction for fans who love the classic movie. You can tour the inside of the house that reminds you of the scenes from the original movie. Consider booking a reservation for an overnight stay that allows you to sleep in the beds from the characters, Ralphie and Randy. When you're done, purchase memorabilia at the gift shop and walk across the street to the museum to view props and costumes from the movie. Admission is available online or at the house and museum. 
Playhouse Square
Playhouse Square is a must-see destination for those who enjoy performing arts. It's a historic district in downtown Cleveland that has multiple theaters that host exciting events, such as world-renowned musicals, stand-up comedy shows, and dance performances, including ballet. It's also the location of the Cleveland International Film Festival and Tri-C JazzFest. Before you walk to the theater for your show, find a table at one of the bakeries, restaurants, and cafes in the district. You can visit the calendar for upcoming events on the website.
Thanks to North Coast Auto Mall, you now have a list of extraordinary attractions to check out in our city. Be sure to schedule your reservations ahead of time to make the most of your vacation to Ohio. If there's another museum, park, or shopping area that locals love and you feel deserves a feature on our blog, then send a message and let us know.